Soul Wrestling Incorporated
Company Profile
Founder
Jonathan Rembrandt
Owners
Jonathan Rembrandt
Founded
May 7, 2005
Location
Duchess, Alberta, Canada (2005 - 2014)
Calgary, Alberta, Canada (2015 - 2018)
Medicine Hat, Alberta, Canada (2019 - present)
Style
Professional wrestling
Key People
Jonathan Rembrandt
(Founder, CEO, CFO)
Homepage
http://swiwrestling.wikia.com/
Soul Wrestling Incorporated (SWI) is a Canadian professional wrestling company, founded in 2005 by Jonathan Rembrandt. The company was founded in Duchess, Alberta, following the closure of Duchess Championship Wrestling. The promotion relocated to Calgary, Alberta in 2014, where it stayed until 2019, when it relocated to Medicine Hat.
Origin and first run (2005 - 2007)
Edit
Jonathan Rembrandt co-founded Duchess Championship Wrestling with Frederick Larson in June 2000. Over the years, Rembrandt became frustrated with Larson's booking decisions and poor attitude towards the wrestling industry. Eventually, Rembrandt quit the promotion on January 9, 2005, taking several disgruntled wrestlers with him. Rembrandt announced the creation of Soul Wrestling Incorporated on May 7, 2005, with weekly pay-per-views taking place every Wednesday in the Duchess Hall starting on June 8, 2005. DCW went out of business three weeks later.
In order to promote SWI from the start, a mini-tour was held in USA, England, and Japan in August. It was there that SWI's heavyweight and tag team championships would gain world title status upon being defended in those countries, thus being respectively named the SWI World Championship and the SWI World Tag Team Championship.
On April 10, 2006, SWI announced that it would no longer air weekly pay-per-views, and introduced its new show Apocalypse. The show was picked up by CBC to air every Saturday evening. In addition, SWI announced that it would start holding monthly pay-per-views for its major events, beginning with Independence in June. On June 27, 2007, SWI had a crossover show with Alpha Championship Wrestling and Fallout called Respectful Invasion. The show led to SWI developing a working relationship with ACW and Fallout.
Underground Era (2007 - 2008)
Edit
On October 16, 2007, SWI announced that it had lost its television deal with CBC and its PPV deal as well, due to being unable to come to new terms. Rather than close its doors, SWI opted to continue on with a handful of wrestlers known only as the SWI 24 as their roster. The company soldiered on throughout late 2007 and all of 2008, holding their traditional PPV events as once-a-month cards in a building near XS3's house in Maple Creek. This was referred to as the Underground Era.
During this time, members of the SWI 24 and other alumni competed in other companies to occupy their time. This led to appearances on Alpha Championship Wrestling, Fallout, Dark Sunrise Wrestling (a company that was groomed to be the spiritual successor to SWI), and Maple Creek Championship Wrestling, which hosted a number of events featuring SWI wrestlers, including a show called SWI Lives!: One Night Only on June 26, 2008.
In a press conference on April 10, 2013, following the death of Afternoon Drinkin, Rembrandt publicly acknowledged the existence of the Underground Era and SWI's continuation during that time. Rembrandt also announced that each show during the Underground Era would be available for purchase from SWI's store, with a portion of the proceeds going to the Heart and Stroke Foundation of Canada.
Second run on CBC (2008 - 2014)
Edit
On December 14, 2008, Rembrandt announced that SWI had worked out a new TV and PPV deal, which would lead to the mainstream return of SWI the following month. SWI aired four weekly hype episodes for Beginning Anew on their official YouTube channel, before resuming operations with Beginning Anew. SWI Apocalypse also resumed airing on CBC. On May 13, 2009, Maple Creek Championship Wrestling was adopted as the official developmental promotion for SWI. The relationship between SWI and MCCW would last until January 16, 2012, when MCCW decided to split from SWI. At the end of 2009, SWI began piecing together a Women's division, with the SWI Women's Championship being introduced at the following month's Beginning Anew event.
On July 18, 2010, Aftermath debuted every Sunday evening on CBC, which featured highlights from Apocalypse as well as matches. Destiny Fulfilled 2010 marked the first time SWI performed outside of Canada since 2007, with the event being held in Phoenix, Arizona. On the July 2, 2011 episode of Apocalypse, Rembrandt stepped down as on-screen commissioner and announced XS3 as his replacement. On September 1, 2012, Rembrandt took back his position as on-screen commissioner, which he held until Destiny Fulfilled, when he lost his position to Ken Davids.
SWI announced a tour of Canada throughout the summer of 2013, wanting to branch out and promote the company outside of Duchess. On July 1, 2013, SWI announced the creation of a new developmental promotion, Future Souls Initiative (FSI). Several wrestlers that appeared in the 30-Man Battle Royal at the Beginning Anew event were signed to deals, in addition to talent from all over the world. SWI announced the creation of the SWI Cruiserweight Championship in September of that year, which would later become the SWI Canadian Television Championship. Following Independence 9, SWI held another Canadian tour in the summer, beginning in Calgary and ending in Montreal. After Unholy Confessions, SWI announced that Apocalypse would officially become a two-hour program that week.
Move to Calgary, SWI 24/7, and DESTINY (2014 - 2017)
Edit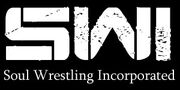 In a press conference held before Broken Chains, SWI announced that in order to save travel costs and accommodate the talent, SWI would be relocating its headquarters to Calgary and holding all of its non-tour shows in a new building, The House of Soul, which will house both SWI events and headquarters. However, the first show would be held in the Metropolitan Centre Ballroom, due to the team finalizing preparations for The House of Soul. FSI was then announced to be moving into the Duchess Hall on a part-time basis. An interview with Rembrandt on December 5 revealed that the company would not hold a Canadian summer tour during 2015, opting to stay in Calgary to test out their new home.
An SWI Hall of Fame was created in May 2015 in order to honor those who had become legends in the promotion. XS3, Necrosphere, Ken Davids, and Overkill were announced as the first inductees. On June 22, amidst rumors of SWI's closure, it was announced that SWI had renegotiated its television and PPV deal, opting to return Apocalypse to a six-month period of a one hour run time. In addition, FSI would be re-branded as a training academy (FSI would later close in November of that year), and Aftermath would become a YouTube exclusive show instead. Apocalypse later returned to its two-hour run time starting in December.
SWI then announced in December that it would begin its own video-on-demand network called SWI 24/7. The network features every episode of Apocalypse, PPV, and special event, as well as every show and event from Kritical Wrestling Alliance, Duchess Championship Wrestling, and Maple Creek Championship Wrestling. The service was released on December 20 to PCs and mobile devices. On January 16, 2016, SWI announced that it had acquired DESTINY Women's Pro Wrestling and its library, adding it to SWI 24/7 in the process. SWI then held its first all-women main event at Independence 11, with Ashley Neon defeating Kayla Stevens to win the SWI Women's Championship. A tournament was held in April 2017 to crown the first ever SWI Women's Tag Team Champions, followed by 40 of SWI's past and present women's competitors main eventing Questions Unanswered in a Femme Fatale Battle Royal for the SWI Women's Championship.
On May 30, 2017, SWI announced that it would reduce its number of PPV events from 12 to 4, with Independence and Destiny Fulfilled remaining in their usual slots, but with Questions Unanswered now being held in March and Kill or Be Killed moving to September. It was announced in August 2018 that SWI would be relocating to Medicine Hat, Alberta, following the company's Destiny Fulfilled event.
SWI's main style is technical wrestling, with some puroresu and lucha libre influences serving as its undertones. Many wrestlers have cited ECW, ROH, TNA, NJPW, and NOAH as their main influences when the company was first getting started. Many in SWI also cite NXT as a source of inspiration in the company's later years, noting the handling of the women wrestlers and level of talent that competes in NXT. Over the years, SWI has garnered praise for allowing younger talent a chance to shine.
Tag teams and stables
Edit
On-screen personnel
Edit
Championships
Edit
Current Championships
Edit
Former Championships
Edit